PERCEPTIONS COUNSELING
AND
CONSULTING

Stacy Ramsey LADC/MH is a Licensed Alcohol
and Drug Counselor and a LADC/MH Board Approved Supervisor with a certification in Mental Health. She has 12 years' experience in practicing therapy. Stacy Ramsey attended Langston University and obtained her Bachelors of Art in 2009. She then went on to the University of Oklahoma and received her Master's in Human Relations in 2010. While working toward her degrees, she gained 8 years' experience in serving developmentally disabled and cognitive impaired persons. She has much experience serving different populations and helping individuals achieve their goals.
About Owner
Perceptions Counseling and Consulting is an outpatient Mental Health Agency. We are certified and accredited through Oklahoma Department of Mental Health and Substance Abuse Services. We offer a wide range of evidence-based mental health and co-occurring services. Perceptions Counseling and Consulting strives to provide the best substance abuse and mental health services to our consumers. We are committed to improving the quality of life for all community members.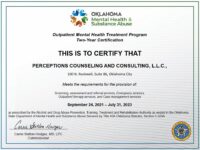 About the Company
It took two yrs. But now I can hold my head high, my confidence & self-esteem is BACK!!!
As a full-time caregiver to my mother I needed help processing this transition for myself and my mom.
I have referred my friends and family
I did the work, now I reap the reward.
It started with my teen daughter receiving treatment and Perceptions Now serve my whole family